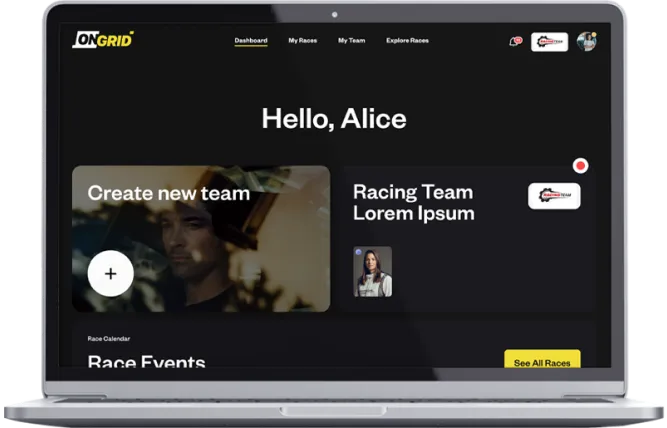 What is onGRID?
It's the first and only all-digital platform in motorsports for all stakeholders. It covers the whole process from event hosting to registration, from management to communication. In a fragmented market, onGRID introduces a single platform for teams and drivers to connect and to register at any race with a few clicks.
It's the platform that empowers all motorsport stakeholders to bring the racing spirit to their administrative activities. It's the technology that simplifies the lives of teams, drivers and organisers, so that they can focus on what they love to do: racing. It's the idea that elevates motorsport administration to a new level.
onGRID uses an advanced process with 2-factor authentication as a legally binding signature in accordance with European law. This completely digital and paperless process is the first of its kind in the motorsports industry. All signatories are initially identified and agree to the terms and conditions of the onGRID platform by means of a qualified electronic signature (QES). Furthermore, onGRID is validating every step, in order to minimise the manual validation work for the organiser.
Empowering all Motorsport Stakeholders
Race Organisers
Organise events with flexibility and efficiency
Streamline all administrative work and simplify complex processes
Integrate and onboard all relevant entities for your event
Manage customised registration details and add-ons
Manage communications across your event with a central notice board and instant messaging
Teams and Drivers
Connect with teams and drivers for a quick, paperless registration process
Manage all your activities in one place, accessible anytime and anywhere
Customise your experience exactly to your specific needs, including car ownership, legal guardians for young drivers
Register at any race within a few clicks
Ready to see onGRID in action?
Contact us!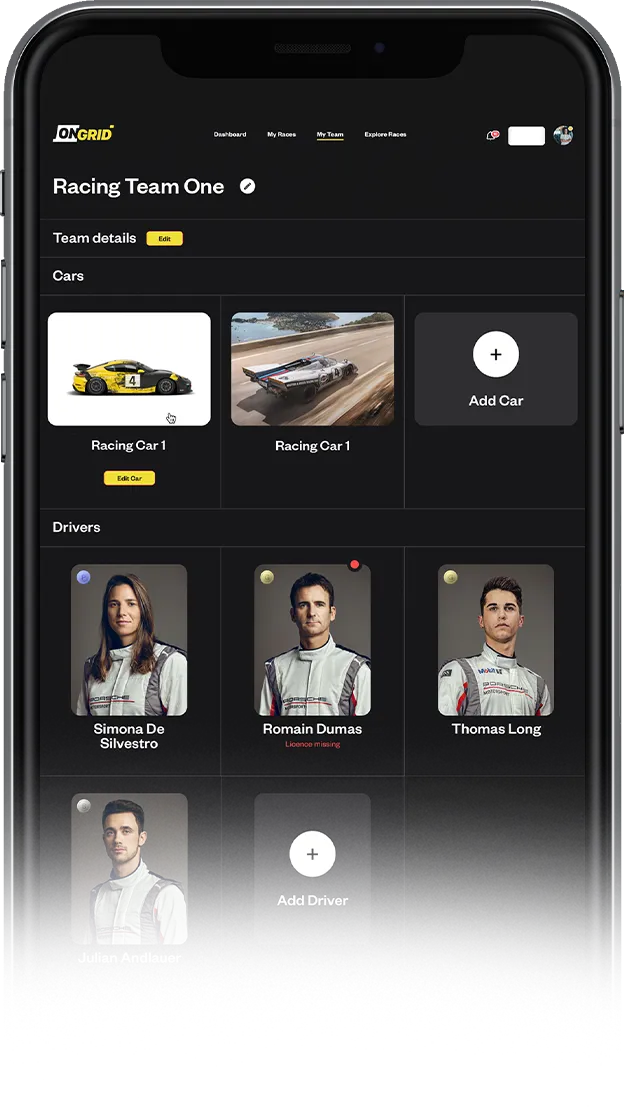 It's time to drive change
Race organisers, teams, and drivers face manual and overly complex registration processes in a very fragmented market that can take hundreds of hours of administrative work for a single race. onGRID is the end of endless registration processes.
Race organisers today have to use different tools and ways to manage the different dimensions of their events. onGRID provides a single platform to manage events from A to Z, increasing visibility and generating future potential along the way.
Registration processes and organisational elements come in many shapes and forms, depending on country and differences in administrative infrastructure. onGRID provides the solution.
A fragmented market and outdated infrastructure make it challenging to identify and implement tools for important requirements such as sustainability strategies. onGRID allows for a fully paperless registration process.
Motorsport has become inaccessible to many, even those who can meet the sporting and financial requirements needed. onGRID will integrate a track day organiser that allows for a seamless journey from the first contact to a professional career.